Best business services provider for accountancy & tax advice
Together we achieve more

Visser & Visser has been chosen by Sprout/MT1000 as the best business services provider of 2021 in the accountancy and tax advice categories.
That's an achievement that makes us very proud.

Proud not just of ourselves, but also, in particular, of you! After all, you don't become the best business services provider on your own. This is made possible by the people we work with, our clients and our partners. So we'd like to express our thanks to you too! We won't let this achievement go to our heads, of course. We'll still be the same people we were before. We'll keep doing what we've been doing and keep striving to do things a little bit better every day. Together with you. After all, together we achieve more.
This content is only available after you accept cookies.
Change choice
About MT1000
MT1000 is a special annual edition of MT/Sprout in which the best business services providers in the Netherlands are chosen. The survey is conducted by the Amsterdam Centre for Business Innovation. Fifty seven different disciplines are defined and a panel of corporate decision-makers is then invited to share their experiences of the companies with which they have had business dealings over the past three years. These experiences form the basis for the MT1000 list. This year Visser & Visser has been named as the best business services provider in no fewer than two MT1000 categories: accountancy and tax advice!
Want to know more about how Visser & Visser can help you achieve more?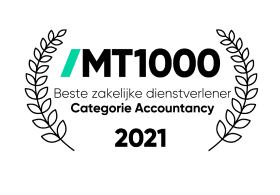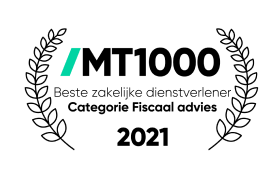 Getting in touch is the first step
Leave your details and we will respond within 2 working days
Professional advice

Up-to-date insight into your business

A personal advisor